Saiun Damascus Steel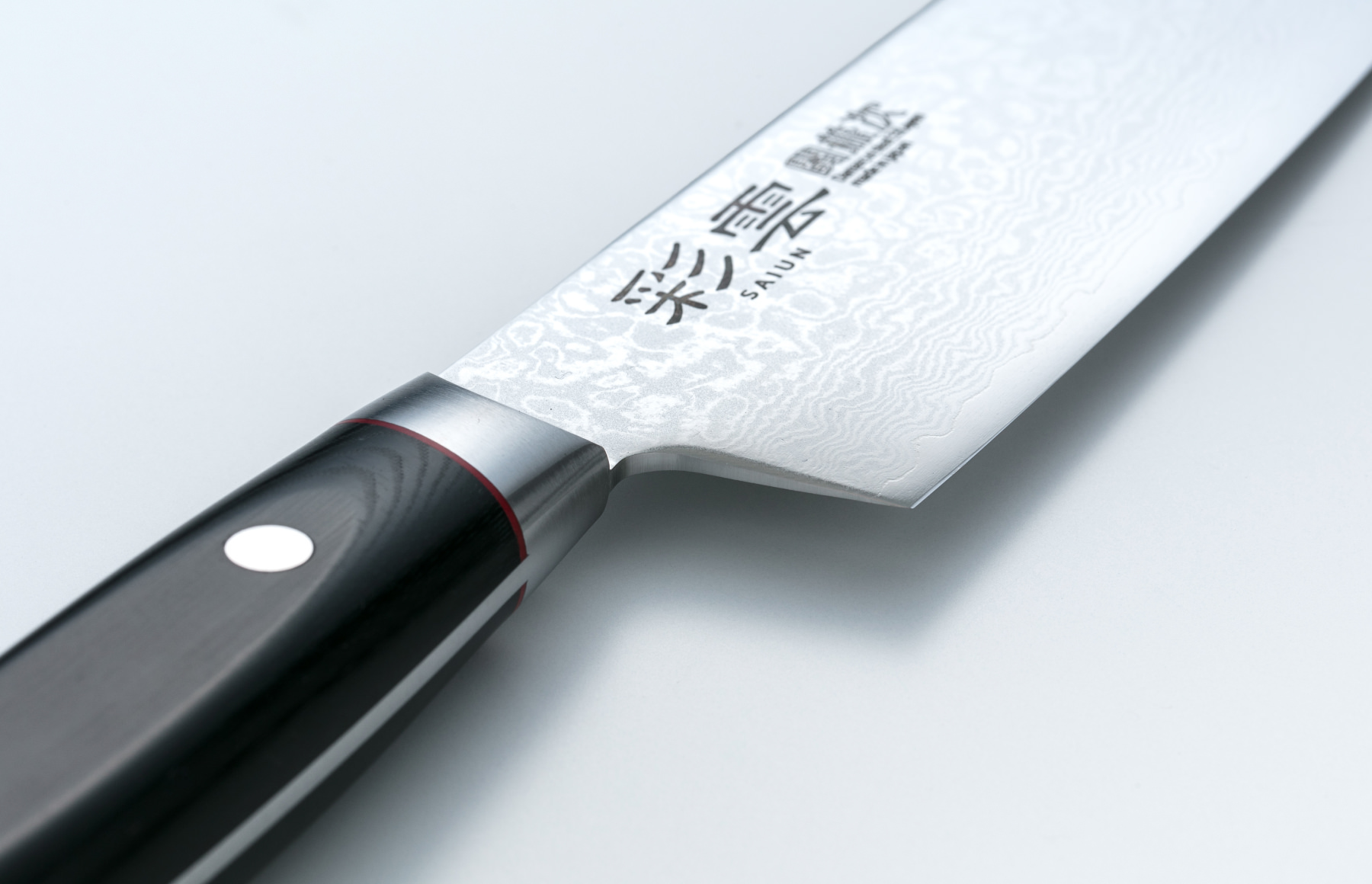 Damascus is the technique to make wavy pattern stand out by sharpening stainless material layers. This is mainly for sold abroad, so we put the elegant contour line on Japanese straight-line form. We use Micarta on the handle part to express Japanese modern design in a beautiful calculated way. The knife is measured along Ergonomics, so you won't feel any uncomfortable when gripping it.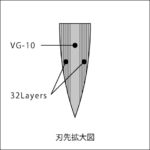 Blade materials: "Damascus steel" that makes out beautiful pattern
VG-10 that was put into the core part is high carbon stainless steel containing Cobalt. As the hardness is 60-61, you can say it's perfect material to make sharp and long-life knife. When the thirty three stainless materials are piled up and are polished sharply, there would be beautiful wavy pattern on it. That's why it's called Saiun (the thin lay shining down from clouds.) Its superb work has been fascinating many chefs.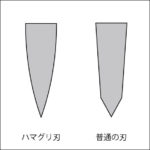 Sharpness: Clam-edged blade of Japanese katana
We finishes knife to clam-edged like Japanese katana. This ensures its sharpness and substantivity. And also makes easy to resharpen it.
Heat treatment: Sub-zero process
Sub-zero process is the special treatment to make knife so hard and tough enough to be unbending and sharp by cooling it to less than minus seventy degrees.
Handle materials: Beautiful and functional Micarta
Micarta is made with high-pressured resin and hemp cotton cloth. It's fire proof and water proof and never depends on temperature or moisture, so it's perfect material for kitchen knife.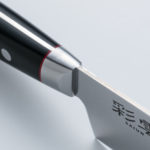 Cleanliness: Integrated kitchen knife with the rim
Integrating the rim with the blade, no crack exists between the handle and the blade, which means that water etc. never soak into. While existing knives use metal parts inside the handle and it's likely to rust soon, stainless on Saiun won't go bad so fast.
Saiun
Damascus Steel Line up
Blade part VG-10 Damascus steel
Handle Micarta

Paring knife 90mm[ 9000 ]

Utility knife 120mm[ 9001 ]
Utility knife 150mm [ 9002 ]

Santoku knife170mm[ 9003 ]

Chef's knife 200mm[ 9005 ]

Chef's knife 230mm[ 9006 ]

Slicing Knife 210mm[ 9009 ]